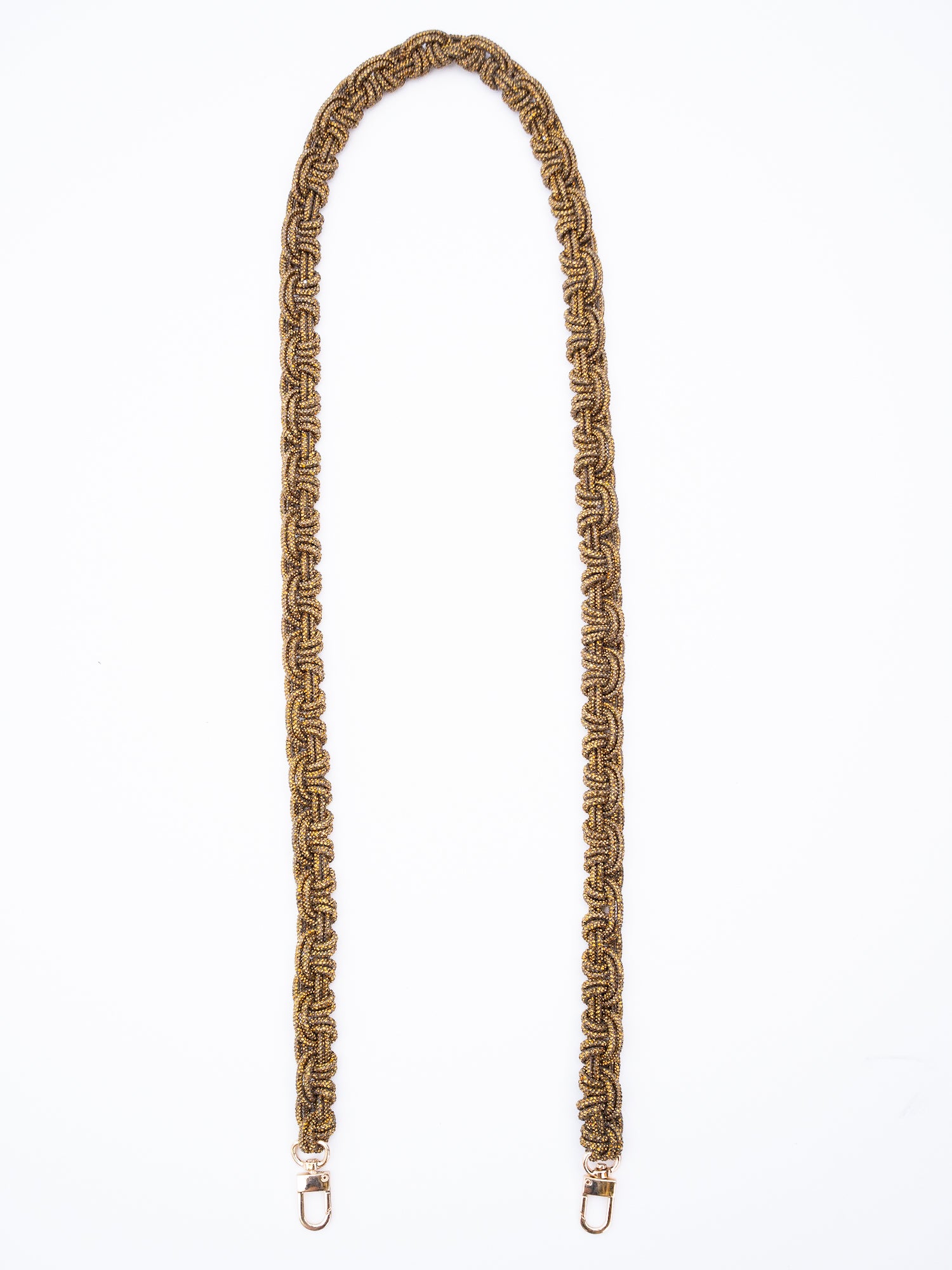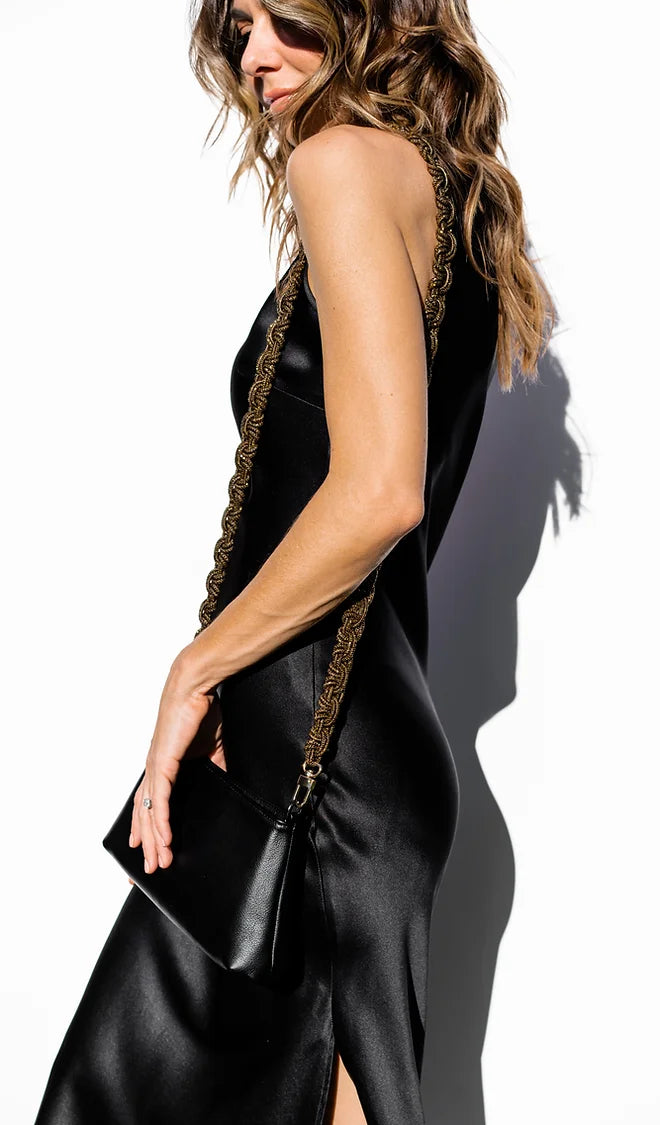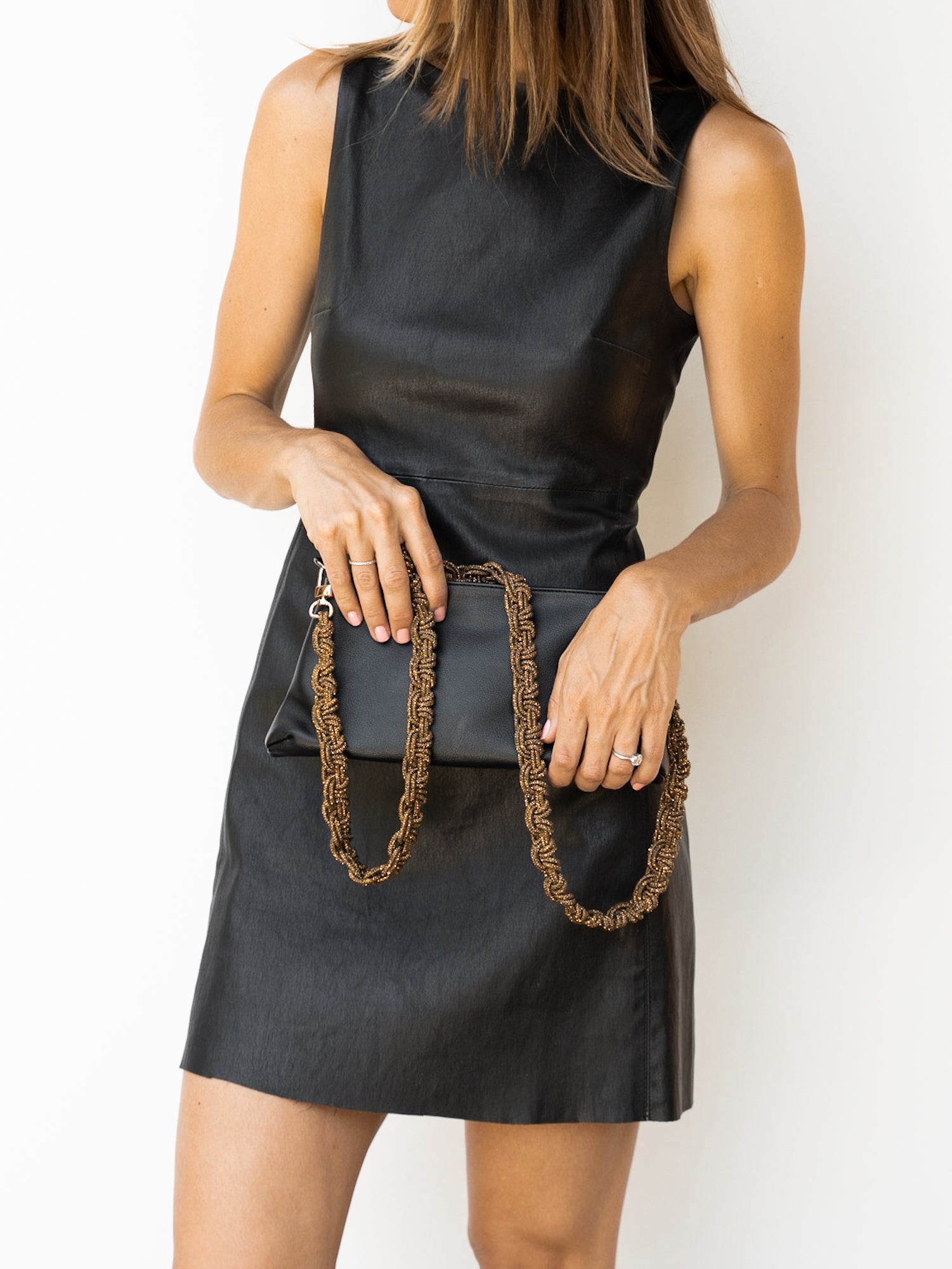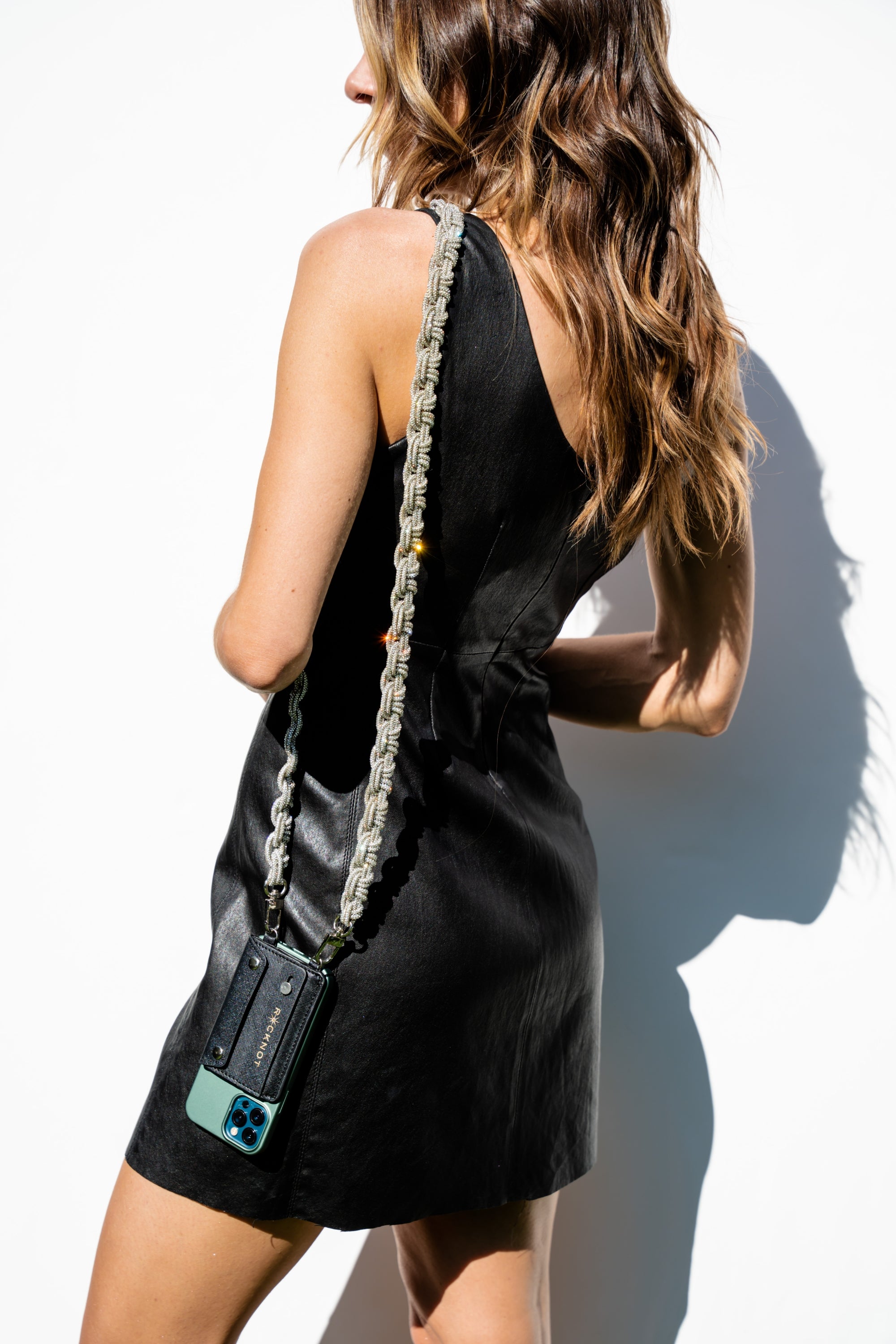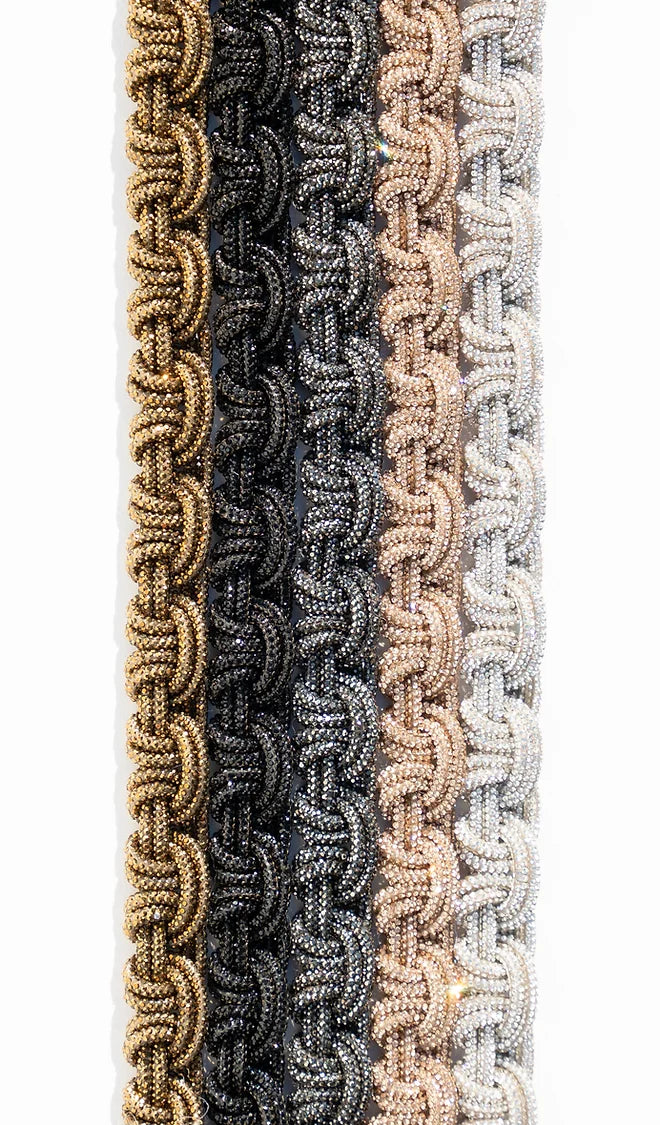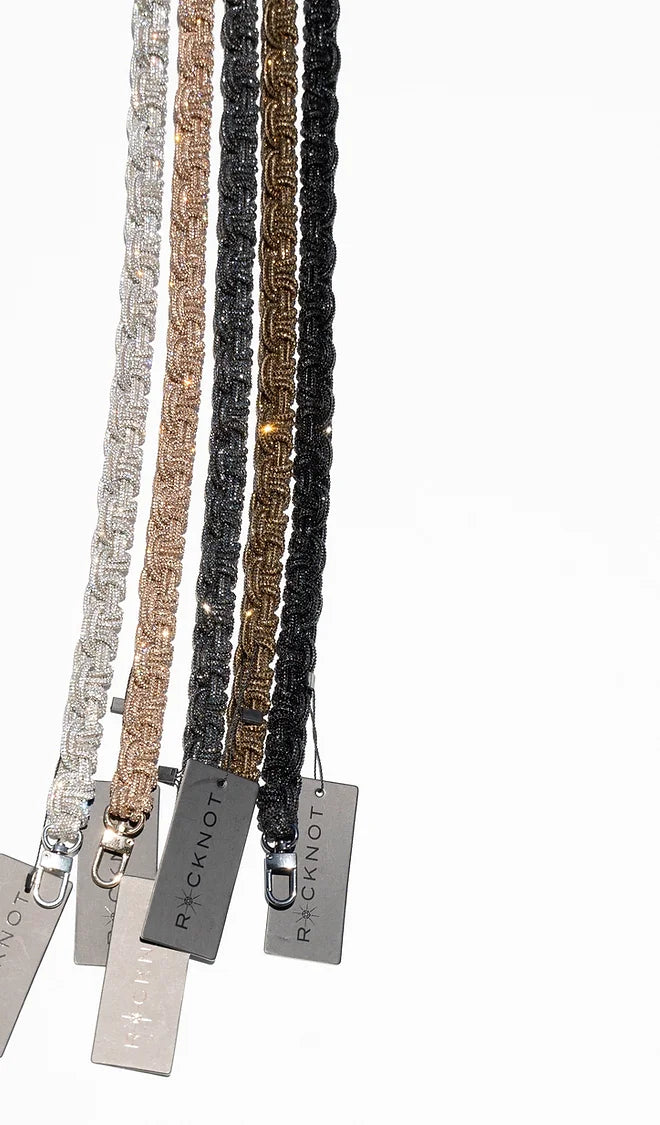 Petite Crown Strap - Antique Gold
Our Antique Gold is the hardest color to capture on camera but always sells best in person!
It is a warm, antique brass tone that works incredibly well with your gold metals! 
The petite crown strap is the most versatile piece in the range. It's delicate size works perfectly with phone cases, clutches and belt bags.
It is woven to be being strong enough to carry the weight of your everyday bag.
The Petite Crown is super light weight. Wear it any day, any time!
Orly is 5'4" and wearing the 46"
This strap can be attached to anything with hooks (bag pictured is available to purchase)
46" or 56" from clasp to clasp
1" wide
2 Electroplated, High Gloss, Swivel Clasps
This product is intended to be used as a purse strap, connected to a purse
Designed in Los Angeles, Made in China
 Categories ; Rhinestone Purse Strap / Rhinestone Macrame Purse Strap / Braided Rhinestone Strap.
---
Petite Crown Strap - Antique Gold
FAQ
What Is The Return Policy?
If you are not pleased with your ROCKNOT order, please initiate a return request within 10 days of receiving it.
If you want to exchange for a different style or size, you can do so by returning your original order and placing a new order for the style or length you would like.
How Do I Care For My ROCKNOT Piece?
If you purchased a ROCKNOT Strap, I recommend storing it in one of 2 ways;
1) When it's not on your purse, hang it by the clasp so it always hangs straight.
2) Or spiral it in the same way you received it, when it shipped to you.
3) If it is on your purse, do not hang it by the shoulder with the purse attached for an extended period of time.
(The hook you hang it on could put pressure on the crystals and damage them.)
If you purchased ROCKNOT Jewelry;
1) Try to store your necklace in a place where it can maintain its round shape.
2) Store all jewelry with nothing heavy resting on top of it.
The material has a bit of memory, so you don't want to crumple your ROCKNOT in a ball or it will take some time straighten back out.
What is the size difference between straps?
Petite Straps are approximately 3/4" wide
Twin Weave is 1.5" wide
Magnum Weaves are approximately 2" wide
All Straps come in 46" and 56" lengths.
If you are unsure of what length you require, I recommend measuring a current purse strap that hits you at the right spot.
Will the Strap get caught on my clothing or hair?
MAGNUM STRAPS - In my experience (and I wear mine every day) the answer is no. The pave rhinestones are set INTO the cording so they don't stick out. I have yet to have any strap snag on a single piece of clothing.
However, I am careful to pull my hair to the side when I take it off, so not to pull The Strap up THROUGH my hair.
PETITE / TWIN - Sometimes when this strap is JUST made, the material can have a slight tacky quality to it. You may notice is clings to you hair. This fades after a few wears and you won't notice that anymore.
I avoid wearing FUZZY sweaters with my Straps. It won't snag but it will cling to the strap and you will have to pull them off.
Shipping
Fast shipping
We offer fast domestic shipping options that guarantee quick and reliable delivery. Choose from a range of shipping options for speedy delivery of your order. Trust our experienced shipping partners to deliver your package on time and in excellent condition.
Order tracking
With order tracking on our store, you can easily track the status of your orders, shipping carrier and estimated delivery date.
Get in touch
If you need any assistance please feel free to email customer service at info@rocknot.com